The best new movies between the months of July and August, decided on by Cinephile Corner. We've chosen six movies, including the Barbenheimer double feature.
Every month or two, I go over what I thought were the best movies to release within that specific time span, making note of the films that I loved and what I thought generally carried the medium – either in theaters or on streaming. In this case, we're looking at the months of July and August, which were filled with big studio releases in theaters and a handful of new movies available to stream or rent at home.
Movie theaters returned in a big way these last couple of months, earning solid financial returns from the likes of Dead Reckoning Part One, TMNT: Mutant Mayhem, and the infamous Barbenheimer double feature. It's a melting pot of different audiences all returning to the theater for the same reason – to see big movies.
Now there were also a select number of new movies to hit streaming or VOD that I liked quite a bit, many of which I wasn't able to see on the big screen for various reasons. I reviewed nearly all of these, and links for them will be attached in their blurb, along with the star rating Cinephile Corner gave them.
Without wasting much time, lets get into what I thought were the best new movies of July and August:
Mission: Impossible – Dead Reckoning Part One
Feeling lost in the stream of great movies released in July, Dead Reckoning Part One still delivers everything you'd expect from a Mission: Impossible movie. It moves at a furiously high speed, zipping from one crowded set piece to another – airports to car chases to nightclub showdowns.
Tom Cruise and Christopher McQuarrie's latest offering feels like the quirkiest of the bunch, riffing on the past more so than any Mission: Impossible movie prior. Some of the choreography is ripped straight from old-school slapstick comedies, while other moments feel derived from the original movies in this same franchise.
The action is incredible, and the script has the twists and turns you'd expect. The crew delivers a movie that fits snuggly into the lore of this world, and for that it succeeds tremendously. (Review here)
Barbie
The movie of the summer, probably the movie of the year really. Barbie was (and I guess still is) a sensation for how it was able to get audiences to pack the theaters. A masterclass in marketing, and a hopeful sign that studios can and will rely more on original storytelling and ideas – if you'd call a movie based on a children's doll an original film.
But beyond the public discourse (some of which was fun, most of which was exhausting), Barbie is just a good ole time at the movies. Margot Robbie and Ryan Gosling star, each commanding the screen and feeling like locks for award season acclaim. The movie is vibrant and colorful, offering the visual feast that you'd expect from this candy-coated comedy.
Greta Gerwig positions herself as one of the premiere filmmakers in the business now, able to fund nearly any project she wants to try. Word has it that she's making Narnia movies for Netflix now. We just can't have nice things, can we? (Review here)
Oppenheimer
My favorite movie of this bunch, and probably my favorite movie of the year thus far, is Christopher Nolan's Oppenheimer. I'd been skeptical of a few of Nolan's movies in the past, namely his endless attempts to infuse cosmic stakes on closed stories about family. He proved me wrong, though, because Oppenheimer indulges in every ounce of moviemaking talent he has.
It moves like a symphony, feeling like one big uptick in suspense and adrenaline until a second act climax that serves as one for the ages – a nuclear test that sets the roof on fire and expands on whatever you think the ceiling is for cinema as an artform.
Cillian Murphy gives the performance of a lifetime, using J. Robert Oppenheimer has the cipher into a world of theoretical nuclear physics and crummy political scandals that threaten to tear down everything he's created. Many have noted the stark detour in the film's third act, one that shifts focus from Oppenheimer onto another stingy figure. It works – I'm sure it'll only grow in estimation upon rewatches the same way that Goodfellas does when Liotta is high as a kite, or The Social Network when Timberlake shimmers his way up the chain of command. (Review here)
Tori and Lokita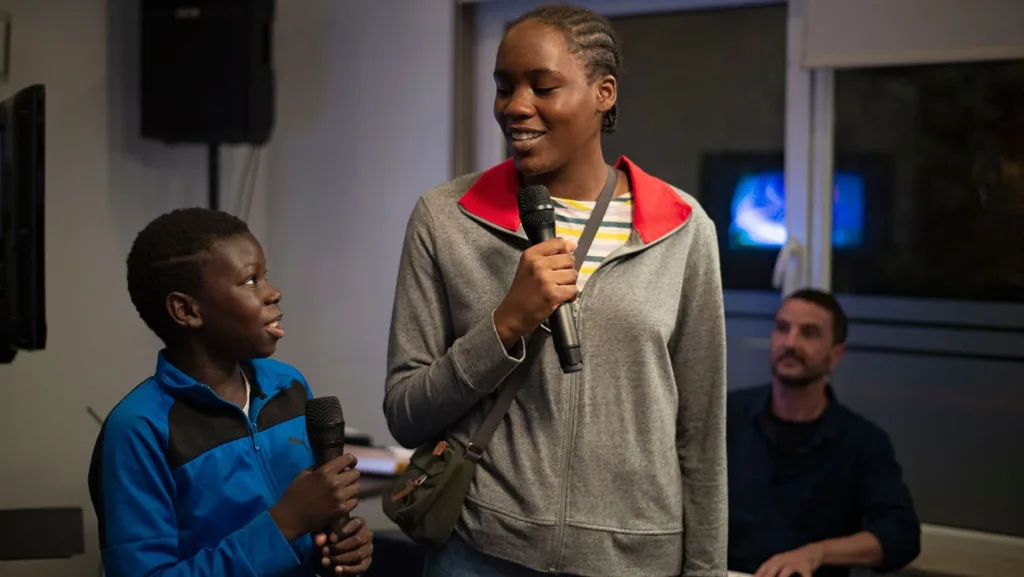 The Dardenne brothers deliver one of their most punishing films yet with Tori and Lokita. A devastating portrait of the immigration system and those pushed to the margins of society, this film follows the two title characters as they struggle to earn wages to pay off their debts.
It's an incredibly angry dichotomy to pit hopeful human dignity and dreams against the perils of civilization, where the rich prey on the poor, and the poor prey on the poorer. The movie never lets up, staging a third act that plays as sad as anything I've seen this year.
Tori and Lokita is one of 2023's best international pictures, available now to stream on The Criterion Channel.
You Hurt My Feelings
Nicole Holofcener returned in a big way in 2023, bringing You Hurt My Feelings to Sundance and subsequently winning the acclaim from the critics everywhere for crafting a film so relaxed and fun, while not being twee or insincere.
But don't get me wrong, You Hurt My Feelings still speaks volumes about the white lies we tell one another – how to be respectful while still being honest. Julia Louis-Dreyfus stars as a writer who finds out her significant other doesn't like her new book. The movie is rich with cutting one-liners and subtext.
The movie doesn't overstay its welcome, offering a 93 minute venture into the mind of the artistic complex, while endorsing the need to be kind to one another. You Hurt My Feelings is one of the better auteur films this year, working with a great script and eclectic cast. (Review here)
Gran Turismo
I thought Gran Turismo was a lot of fun – a blistering statement that may shellshock a landscape of critics that can't stand the thought of a video game movie knowingly referencing the fact that it's a video game movie. If that's your harshest critique of a film that accomplishes so much technical craft during its runtime, get a new schtick. Gran Turismo is genuinely entertaining, wearing its heart on its sleeve and offering some of the most visceral racing in a movie in years.
It's a popcorn movie made to appeal to general audiences, but if all popcorn movies were made this exciting, we'd be looking at a much brighter future for movie theaters and studios alike. David Harbour shines, although a movie that gives him more to do would've sufficed.
I walked away from Gran Turismo thinking the sound was phenomenal, building tension through an array of overwhelming audio decision that completely suck you in. The movie turns on a dime, unafraid of breaking through the notion that it's an advertisement glossed up to the nines. Not perfect, but fun in part because of its imperfections. (Review here)
READ MORE: Criterion, Christopher Nolan, Critics Choice
Follow Cinephile Corner on Twitter