We have our first poster for David Fincher's The Killer. This is the much anticipated release from one of cinema's most established and beloved auteurs, returning to a style he knows well. It's also the first official promotional material for The Killer, as the only other shots of the movie that we have so far are two unassuming stills.
The poster is rendered as a painting, with Michael Fassbender displayed prominently in the center wearing a dark bucket hat. The poster also confirms a limited theatrical run before streaming on Netflix November 10th.
This is my most anticipated movie still left to release this year, which I listed out last week. Fincher is my favorite filmmaker, and I'm excited to see him return to his roots with a psychological thriller that seems in line with Se7en and Panic Room.
The Killer is also one of David Fincher's shortest films, reportedly clocking a runtime of 118 minutes. This puts it just after Panic Room and Alien 3. It's nice to see him craft a movie much leaner than, say, The Curious Case of Benjamin Button or The Girl with the Dragon Tattoo (both of which I still do like).
David Fincher's usual crew members are returning to help with this one, including screenwriter Andrew Kevin Walker (Se7en), who's tasked with adapting the novel of a similar title by Alexis Nolent. The film is shot by Erik Messerschmidt, who has collaborated with Fincher in the past on Mank and Gone Girl, and who also serves as the cinematographer for Michael Mann's Ferrari later this year.
And a David Fincher movie wouldn't be complete without Trent Reznor and Atticus Ross returning to score The Killer. They've become my personal favorite composers, matching drone and pop influences to perfect results in movies like Bones and All and The Social Network – the latter being arguably my favorite score ever in a film. Hell, even Empire of Light has some pretty great musical elements that occasionally mask that film's issues.
A trailer for The Killer should be here soon as the movie is set to premiere at the Venice Film Festival September 3rd. As for now, you can see the poster for The Killer below: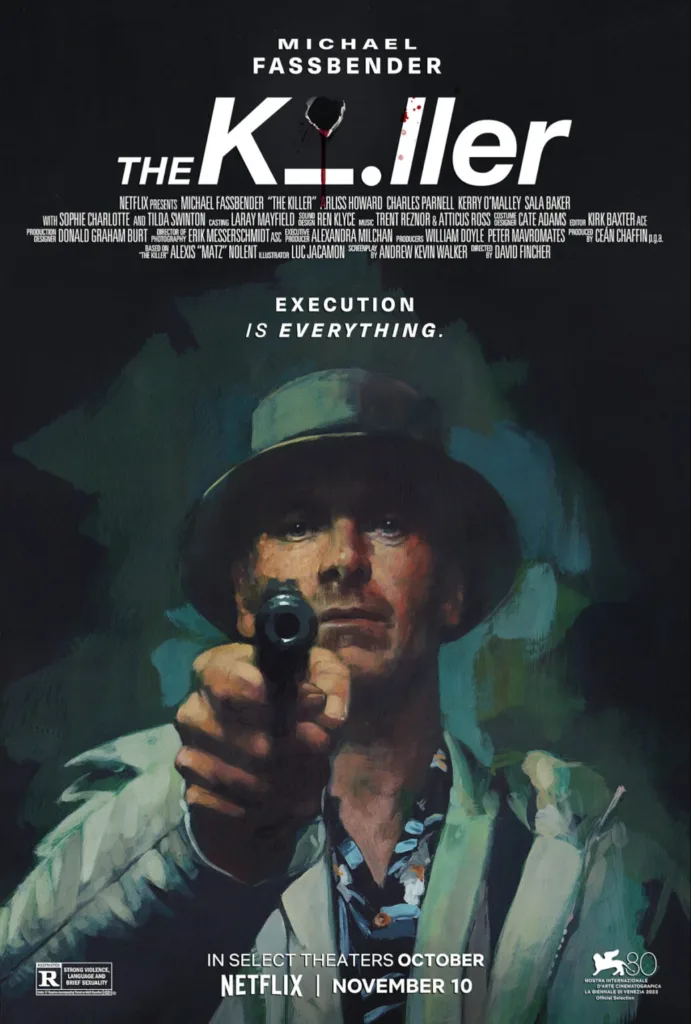 READ MORE: Venice Film Festival 2023, The Game (1997)
The Killer movie on Letterboxd